London Transport Operations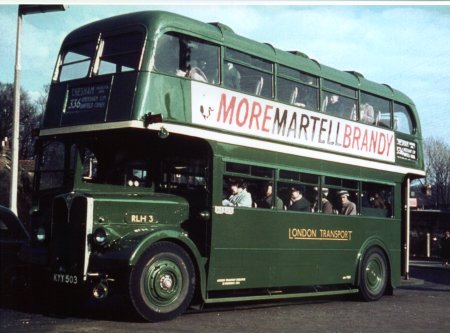 The majority of the 76 RLHs (RLHs 1 to 52) were delivered painted green and used in the Country Area of London Transport (LT). The first RLH ran in June 1950 on route 336 based from Amersham (the longest running lowbridge route in London Transport, dating from 1930). Their other Country Area garages were Addlestone, Guildford, Godstone, Reigate and East Grinstead (at the latter, they were used on highbridge routes only).
The remaining twenty-four (RLHs 53 to 76) were painted red for use in the Central Area of London Transport which, over the era of RLH operation, covered the garages of Merton, Harrow Weald, Dalston and Hornchurch.
For various operational reasons, there were frequent changes of allocations of the RLHs between the different garages within either the Country or Central areas. This often took place when a vehicle returned from overhaul.
Very occasionally buses were transferred from the Country to the Central divisions, which resulted in changes from green to red liveries during their careers. This happened to eight: RLHs 1, 7, 9, 22, 23, 29, 49 and 52. No RLHs changed from red to green.
The RLH was unusual for a London Transport bus because when overhauled, the bodies were always reunited with their original chassis each time. The much more common RF and RT vehicles of the same age would almost always have a different chassis fitted to the body at each overhaul (because it was more efficient for the process). The RLHs all received three overhauls, spaced around every 4 years, except for twelve RLHs which only received two (RLHs 13, 37 to 43, 48, 51, 75 and 76).
In 1970, seventeen RLHs were transferred to a new owner, London Country Bus Services (LCBS). These were only surviving 'green' examples from the former Country Area of LT, working by this time only on the Surrey RLH route network. The last day of LCBS RLH service was the 31st July.
The last RLH to run in London Transport service was in April 1971 in Dalston.
More information on routes and garages:
© Timebus 2005-2020