Godstone Garage (route 410)
Godstone (code GD) was a Country area garage which operated RLHs on the following route:
Route number
Route
Miles
Low-
bridge?
Dates of Operation
Allocation
410
Reigate - Redhill - Godstone - Oxted - Westerham - Biggin Hill - Bromley (North Stn)
Route map
?? m
Low (Oxted Stn)
7/1950 - 11/1964
14
In 1934, route 410 was converted from open top double deck buses to enclosed low height types, using a fleet of 12 AEC types.
Six brand new first batch RLHs (RLHs 15 to 20) were allocated to Godstone garage to work on the route in July 1950. Together with STLs transferred from Addlestone, they replaced the distinctive forward entrance STLs previously used on the route.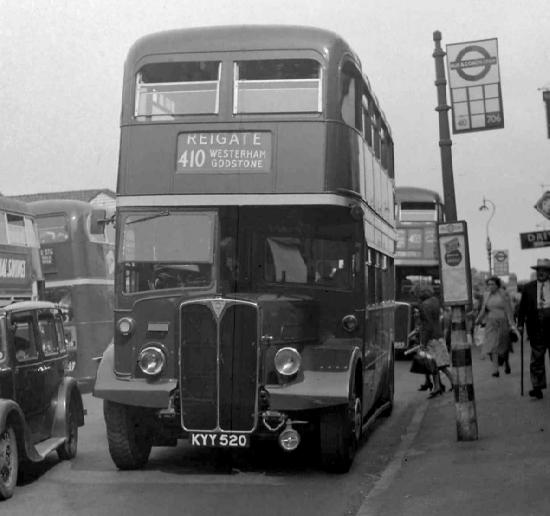 The allocation of RLHs was increased to 14 or 15 when the second batch were built in 1952. In October 1962 it was reduced, to 12 or 13 vehicles (a graph of the allocation can be viewed here).
The low bridge at Oxted station was by-passed by changing the route of the 410 in 1964, at which time RTs replaced the RLHs. The change of route was not popular, and in the following year the road was lowered (the bridge is nowadays labelled 15 feet 3 inches) and RML buses were introduced.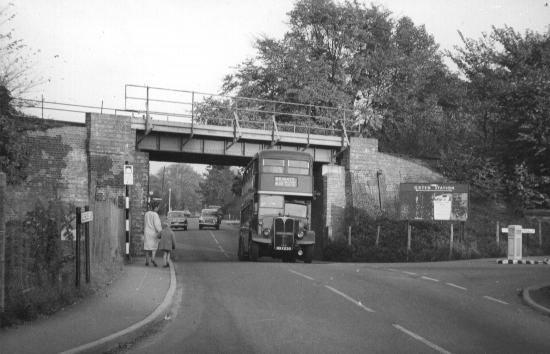 In September 1990 route 410 finished, being replaced by route 320 which only runs on the North to South section, between Bromley and Westerham.
The LT garage at Godstone was on Eastbourne Road. It closed in 1990 when London Country (South West) opened a new garage at Beddington Farm in Croydon; which also replaced Chelsham garage. The old Godstone garage is now demolished (although Metrobus nowadays operate a new garage elsewhere of the same name).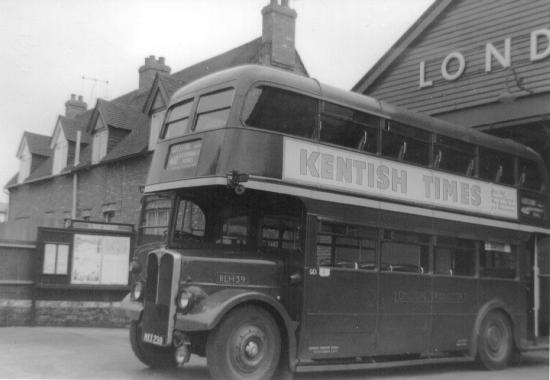 Reminiscences
by Mike Sheppy
..it was my favourite route and the RLH has always been 'the tops' in buses for me. The RLH's varied in performance and sound, just as the survivors do. The 'greyhound' of the GD RLH fleet to me was RLH 40 which had a lovely 'growl' and next 'best' was RLH 16. On my way home from school via Bromley to Biggin Hill, these two in particular would roar down the first bit of 'open road' at Bromley Common from Crown Lane junction (where the 94 turned left towards Petts Wood) to Trinity Church, usually overtaking a red RT on the 47 route to Bromley Common Garage from Shoreditch and/or a green RT on the 402 from Bromley North Station to Sevenoaks. We used to mentally urge the driver on to pass them. Great excitement!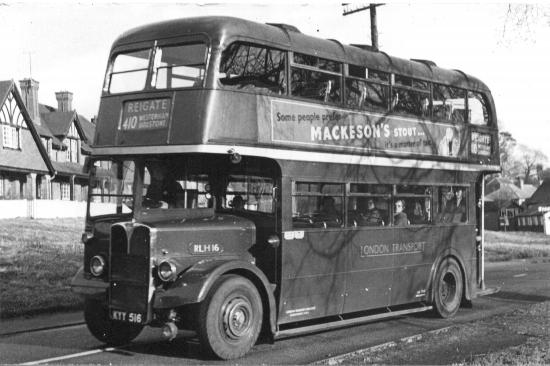 © Timebus 2003-2020