RLH 9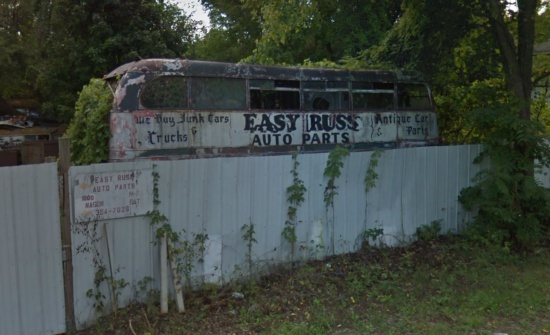 July 2011 - situated at Easy Russ Auto Parts, Grand Rapids, Michigan, USA by this date
1974 - pictured (nearside front view) posed for a newspaper report in downtown Detroit, with 'Detroit Tonight Tours' written on the advert panels, carrying a number MPSC P14751 on the side, radiator extended out, curtain draped across platform, circular front trafficators, and a retrofitted offside wing mirror bracket positioned low down on cab pillar
July 1969 - pictured (nearside rear view) in Chicago, Illinois. With a liquid tank attached to the offside rear exterior, battery access panels with 3 top hinges each, 2 eyelets in top corners of nearside advertisement panels, licence plate 3193A, and the wording 'English Party Bus For Hire Phone 341-9885' on the rear
1967 - pictured at St Petersburg Beach, Florida, USA. With curtain draped across platform, nearside rear wheel arch guard missing (perhaps in order to accomodate larger tyres)
1957: RLH 9 became one of only eight RLHs which changed from green to red with London Transport, in the course of an overhaul and garage move to the Central area; from Addlestone to Hornchurch.
1950: RLH 9 was built, painted in green for use in the London Transport country area.
UK registration number: KYY 509. For other identifying numbers (chassis, body etc) please see this table.