Dalston Garage (route 178)
Dalston (code D) was a Central area garage which operated RLHs on the following routes:
Route number
Route
Miles
Low-
bridge?
Dates of Operation
Peak
Allocation
178
Stratford (Maryland Stn) - Hackney Wick - Homerton - Clapton Pond
Map (1971)
Summer 1962 Timetable
4.8 m
Low (Carpenter's Road)
13/05/1959 - 16/04/1971
14
178
Clapton Pond - Hackney (Mare Street) - Dalston (LT Garage)
? m
High
Positioning journeys only
?
Greyhound Express
Stratford (Maryland Stn) - Hackney Stadium (Waterden Road)
2.5 m
Low (Carpenter's Road)
Thursday, Friday and Saturday evenings
?
Dalston Garage
Dalston garage opened in 1906, in a converted barracks, and was located in Shrubland Road (south side, west of Ivydene Road). It was built for an independent company, the Motor Bus Co. (fleet name Pilot), which was bought by Vanguard Motorbus Co. Ltd in 1907, and then amalgamated into the London General Omnibus Company (LGOC) in 1908. It gained the code D in 1911.
Unusually, most of the routes operated did not actually go near the garage, including the main part of route 178 (although garage journeys operated).
The garage closed in 1981, being replaced by the new Ash Grove Garage at Cambridge Heath.
Route 178
RLH Route 178 was created as a new route in May 1959, replacing single deck RF buses on route 208A around Stratford. Most of the buses were available for this new allocation since Merton garage had stopped operating RLHs around 6 months previous, but three extras were also required from the Country area, and repainted red instead of green.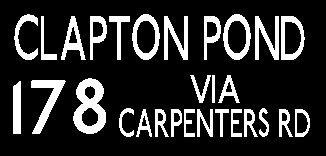 In June 1966, the allocation of RLHs to Dalston was reduced from fourteen to twelve (a graph of the allocation can be viewed here).
The timetable ran on Mondays to Saturdays, every 10-12 minutes frequency until 8.30pm (except between Hackney Wick and Stratford, where in peak hours there were many short extra workings, increasing the frequency to around 4 minutes).
Since clearance above the RLHs under the low bridge on Carpenter's Road was so tight, drivers were instructed to travel at 5mph under it! It is believed that the road could never be lowered under this bridge to give room for standard double deckers because the London Underground Central line passes directly under it, along the same course as the Great Eastern mainline railway overhead.
This was the last route on which the RLHs (and therefore any low bridge bus designs) were in service with London Transport. The service finished in April 1971 when replaced by single deck one person operated flat-fare Swift type buses, which were based from West Ham garage. These operated on existing service S2, and a new service S3 (between Stratford and Hackney Wick).
Three RLHs were deroofed by driving under low bridges (off their correct route) - RLH 72 in 1964, RLH 58 in 1966 and RLH 56 in 1968. The first two were repaired. It is believed a new roof was made for RLH 56 but it was never fitted, and the bus withdrawn.
After the RLHs were withdrawn from the route, blue examples could still regularly be seen in the area for a few more years, as private Lesney staff buses.
On 19th April 1981, to mark a decade since the last London lowbridge bus service, preserved RLH 23 and RLH 29 visited various old haunts including the Hackney (greyhound) Stadium, Dalston Garage, Clapton Pond and Hackney Wick for photos.
On 13th April 1996, to commemorate the silver anniversary of the same, route recreations were held on route 178 with RLH 23 and RLH 48. See gallery from this event.
On 16th April 2006, to commemorate the 35th anniversary, more recreations were held on route 178 with RLH 23, RLH 48 and RLH 61. More details.
On 1st July 2007, at the Route 178: The Last Chance event, 3 RLHs provided trips over the route the day before the section of Carpenter's Road containing the low bridge (and other roads) were closed for redevelopment into the 2012 London Olympics park.
Carpenters Road re-opened in 2014, by now with a new road passing parallel to the north side of the bridge. However the bridge has a reduced (and compulsory) maximum height limit signed as 13'0". Unfortunately this means that RLHs will no longer be able to go under the bridge for photos or route recreations in future.
On 18th April 2021, Timebus co-ordinated a spectator event over as much of the old route as possible, to commemorate the golden anniversary of it finishing, called LT RLHs 50 Years Later, which featured an unprecedented gathering of 8 RLHs (RLHs 23, 32, 44, 48, 53, 61, 69 and 71).
Details of Route Changes
The single decker route 208A that the RLHs replaced contained a very low bridge in Kenworthy Road, that not even an RLH could pass under. To avoid it, for the first five months of operation, route 178 travelled between Homerton and Hackney Wick via Homerton High Street, Ponsford Road (passing under the railway here), Morning Lane and Wick Road. After 14/10/59 however, the route changed to go via Homerton High Street, Marsh Hill, Lee Conservancy Road, and Eastway.
From 14/12/1964, in Hackney Wick, north bound buses could no longer turn right from Wick Road into Eastway due to a traffic restriction (see map linked to near top of page). From this point on, south bound buses continued on the old route, but north bound buses went via Trowbridge Road and Osborne Road to reach Eastway.
From 10/2/1969 Lett Road was blocked off halfway down. This had previously been the road taken by west bound 178s, from Carpenters Road. From that date, they had to go the same way east bound services always had done, i.e. continue a bit further and then turn left into High Street Stratford.
Reminiscences
The Last RLH - 16th April 1971 - memories of the final trips and more photos of the last day
Acknowledgements
Thanks to the following people for their contributions to this page:
© Timebus 2004-2021