Merton Garage (route 127)
Merton (code AL) was a Central area garage which operated RLHs on the following routes:
Route number
Route
Miles
Low-
bridge?
Dates of Operation
Allocation
127
Morden - North Cheam - New Malden - South Wimbledon - St. Helier
Map
?? m
Low
(Worcester Park Stn)
12/1952 - 19/08/1958
9 (M-F)
152
Mitcham - Hampton Court - Feltham
?? m
High?
???
0?
Merton garage opened in 1913 and was located on the High Street (north side, beside Wandle Bank) close to Colliers Wood station, and is still operational today.
Route 127
RLHs on Route 127
Ten new second batch RLHs took over the route (Morden to South Wimbledon) from Daimlers in December 1952 (RLH 59 and RLHs 68-76). A certain amount of exchange took place with Harrow Weald RLHs due to overhauls etc (a graph of the allocation can be viewed here).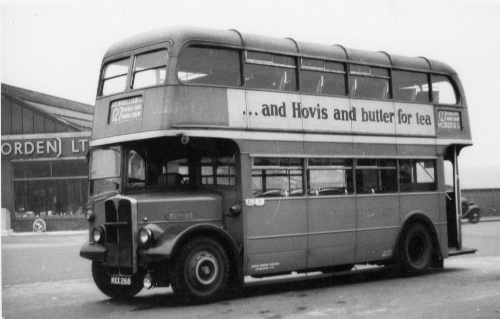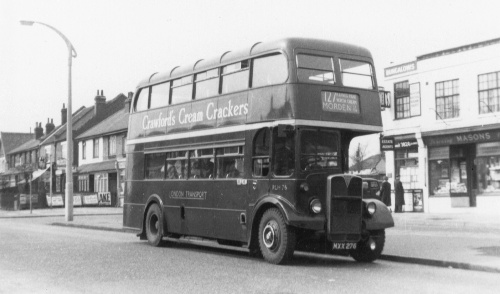 From October 17th 1956, the route was extended on weekdays from South Wimbledon to St Helier. In the late evenings, it only ran between South Wimbledon and Raynes Park. On Saturdays, it only ran between Morden and Raynes Park.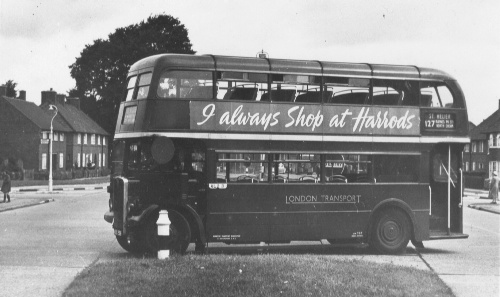 In early 1958, late evening and Sunday services were withdrawn. RLHs continued to run until the route was withdrawn in August 1958 following industrial action by bus crews (across the London network) which had depleted passenger numbers. There has not been a direct bus from Worcester Park to the Wimbledon area since then.
The RLHs present at the end were: RLHs 61 to 64, 66 to 69, 71 and 76, all of which moved to Harrow Weald. Of these, RLHs 68, 69 and 71 were the only ones to have been allocated to Merton continuously. There was a surplus of red RLHs for a number of months, until a new route 178 commenced in East London in May 1959.
Earlier History of Route 127
The origins of route 127 can be traced back to route 155 which started in 1926 running to from Morden station to Worcester Park station; one of five feeder routes opened along with the extension of the Underground railway (now Northern Line) to Morden. By 1930 the route had been renumbered the 155B, and it extended from Worcester Park to Raynes Park and South Wimbledon, making it almost a circle. The single decker buses on the route were based at Sutton garage.
In 1934 the service was renumbered the 245.
In the first half of 1941, due to a general shortage of vehicles in the war, 17 low height double deckers were loaned from Manchester Corporation (9 Crossleys and 8 Leyland Titan TD1s); these could be used under the low bridge at Worcester Park. There were also 5 Leyland Titans borrowed from Hants and Dorset.
After these vehicles returned to their owners, London Transport transferred five old ST low height buses from Amersham in August 1941, and renumbered the route officially as double deck route 127. In October, the buses changed allocation to Merton garage.
At this time, four single deckers continued to be mixed in with the low height double deckers, but this situation was not ideal and the intention was to replace them with new low height double deckers (consisting of new Chiswick bodies mounted on second hand STL chassis). For a couple of months in late 1942, five such lowbridge STL vehicles briefly replaced the old single deckers, but they were needed elsewhere and so single deckers returned (this time in the shape of five newer Q types). A more permanent set of (five) lowbridge STLs arrived by April 1943.
In May 1944, six new 'utility' Daimlers (CWA6) with Duple lowbridge bodies were introduced. These shared the route 127 duties with 4 remaining lowbridge STLs until after the war, when another four new Daimlers arrived. For a while in 1949, a number of borrowed provincial low bridge buses shared duties with the Daimlers.
Subsequent Developments
The road was subsequently (in 1962) lowered under the bridge by Worcester Park Station. This allowed the, formerly single deck operated, route 213 to be converted to full height double decker buses in May 1963 (Kingston - New Malden - North Cheam - Sutton garage). This service still operates in 2007, as does another similar double deck route; the 151 from Kingston to Sutton.
Interestingly, from 1981 there was a new and totally different route 127 operated from Merton garage; from Tooting to Purley via Wallington. This service still operates in 2007 (although no longer, since 1984, from Merton garage).
A commemoration of 50 years since the finish of the route took place in August 2008 including a road run with RLHs, for more information see www.red-rf.com.
Route 152
Very little is known of when or why RLHs operated on this route, except that RLH 68 was photographed on it. RLHs were probably only occasionally used between Merton garage and Hampton Court Palace, for visitors to the attraction.
© Timebus 2004-2020