Amersham Garage (route 336 etc)
Amersham (code MA) was a Country area garage which operated RLHs on the following routes:
Route number
Route
Miles
Low-
bridge?
Dates of Operation
Allocation
305/ 305A
Beaconsfield/ Chalfont Common - Gerrards Cross - Uxbridge
?? m
High
1953- 1958
1?
336
(Berkhamsted) - Chesham - Amersham - Chalfont - Chenies - Chorleywood - Rickmansworth - Croxley - Watford
Map
Winter 1960 Timetable
?? m
Low (Amersham Common 'Black Horse')
May 1950- 31/10/1965
6
353
Amersham - Chesham - Ashley Green - Berkhamsted
?? m
High
???
0?
359
Aylesbury - Great Missenden - Wendover - Amersham
?? m
High
1953- 1958 (occasional)
0
Amersham was the first garage to receive RLHs, when RLHs 1 to 6 were delivered brand new there in 1950, replacing some lowbridge ST buses on route 336.
When the second batch of RLHs were built in 1952, five were sent to Amersham, bringing the total to 11. This enabled RLH use on routes 305 and 359 (if required).
On 9th May 1954, the type of tickets issued to passengers changed. Previously, pre-cut and pre-printed coloured tickets were punched in different positions to indicate their validity, by a small machine known as a 'bell punch'. Now, tickets were printed mechanically at the point of issue by a 'Gibson' machine, and torn off a paper roll.
On May 18 1955, route 305 was extended to Uxbridge Station from its original terminus of Gerrards Cross, although the timetable was changed so that no additional buses were needed.
Route 359 operation was shared with United Counties, which normally ran one low height K type, although single deckers were increasingly used on many journeys as the decade progressed. LT initially ran one ST, and later one RT after 1953. RLHs seldom appeared on the route, although they enjoyed a brief spell in 1956 (it is believed) when reconstruction work at Deep Mill bridge Great Missenden forced the use of low height buses for some weeks.
In October 1958, route 359 was converted to one-person operation using one RF single decker, and route 305 was converted to RT operation, leaving only route 336 for RLHs.
Some historical information about Amersham can be found at http://www.amersham.org.uk which also contains an article about London Country Buses there
In 1961 the electrification of the Metropolitan railway was completed from Amersham to Rickmansworth, and as a result the 'Black Horse' bridge was widened and raised, giving a signed headroom of 14ft 3in. Although this was lower than the height of a standard highbridge double decker (RT), with dispensation the RT was allowed to pass underneath safely, meaning there was no longer a requirement for lowbridge buses.
The RLHs were eventually replaced on route 336 by RF one person operated single deckers in October 1965; ending a tradition of lowbridge buses in the area which commenced in 1930.
In October 2005, the 30th anniversary of the end of the RLHs in the area was commemorated by route recreations (as part of the annual Amersham and District Motor Society event).
Garages
Amersham garage (code MA) was opened on 14th August 1935, replacing a smaller former garage next door. It had an allocation of RLHs which changed somewhat erratically until late 1957, after which it stabilised at 6 vehicles (a graph of the allocation can be viewed here).
Amersham garage was closed down gradually between 1989 and 1992, demolished in 1992 and the site is now occupied by a Tesco superstore and filling station.
For clarity the following garages in Watford were visited by RLHs on route 336, but RLHs were never allocated to any of these:
Watford Leavesden Road garage (code WT) was situated on an awkward corner with St Albans Road. It opened in 1920. RLH operated route 336 terminated here for a couple of periods (see timeline below). The garage closed in June 1952 when Garston garage (see below) opened. The lower facade remained when the site was converted from commercial use into apartments in the 21st century.
Watford High Street garage (code WA) was located at the far southern end of High Street. It opened in 1925. RLH operated service 336 terminated here for a while (see timeline below). It closed on 28th April 1959.
Watford Garston garage (code GR) was on St Albans Road beside Garston Park. It opened in 1952. RLH operated 336 journeys terminated here on Saturdays for a short spell. Many RLHs were stored here, out of use, in later years. The garage closed in 2018 and the site will probably become apartments.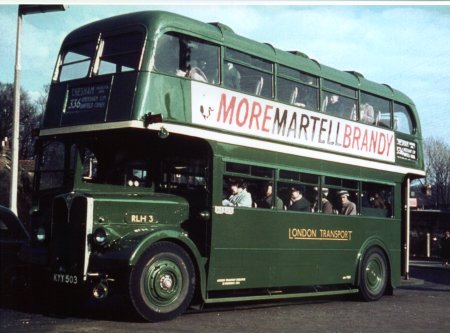 Timeline of Route 336 Changes
Route 336 began to exist from 31st January 1934, when London Transport re-numbered route 6 which it had taken over from London General Country Services.
As a result of Leavesden Road garage closing, from 11th June 1952 the route was changed from Pond Cross Roads via the High Street to terminate at Watford High Street Garage instead.
From 18th April 1956 , the route was diverted to serve Watford underground station (Metropolitan Line), via Cassiobury Avenue.
From 19th January 1958, some school journeys were extended from Chesham to Berkhamsted via Nashleigh Hill to Ashlyn's School. This lasted until 6th May 1964.
From 15th October 1958, the route was diverted past Chorleywood Station, using a loop via Common Road and Green Street. Previously, buses used to go straight down the main road, the Gate pub being the closest point of approach to Chorleywood centre. Also, some journeys were extended from Watford via Aldenham Road to terminate at a school in Bushey Mill Lane . [From 6th January 1960, those journeys were extended even further; via Hartspring Lane to Watford By-Pass (Cox's Corner).]
On 28th April 1959, due to closure of Watford High Street Garage, route 336 reverted to its traditional terminus in Leavesden Road (stopping outside the long closed Leavesden Road garage), via Watford Junction station and St. Albans Road. From 25th May 1963, some journeys continued further north to Garston garage.
From 6th May 1964, one weekday bus per hour was diverted in Chesham to the Hilltop Estate.
The route was withdrawn in 1992 but a decade later on 12th January 2002, RLH 48 was used to relaunch route 336 with an inaugural special press run, the service being operated by Carousel Buses.
From September 2009 (still operated by Carousel Buses) the following sections were withdrawn: Amersham to Chesham, the deviation through Chenies Village, and Watford Town Centre to Watford Junction peak journeys. The remainder was rerouted to now run High Wycombe - Beaconsfield - Amersham (Hospital, Old Town and Station) - Little Chalfont - Chorleywood station - certain journeys via Cedars Village - Rickmansworth - Croxley Green - Watford Town Centre.
From June 2018, route 336 ceased to be once more, being renumbered 103 (with the same outline route as at the 2009 change above).
Acknowledgements
Thanks to the following people for their contributions to this page:
M. Payne - Information on route 359
R. Proctor - Route 336 history comprehensive detail
© Timebus 2003-2020