Guided London Tours
Bespoke Packages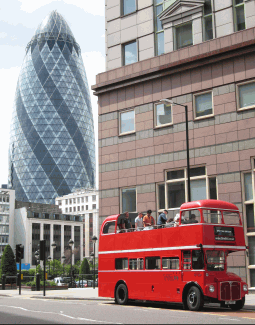 Timebus presents our traditional former London buses, restored to a high standard, and fitted with a public address system.
Experience elevated, 360 degree views of the capital.
Let our registered London guide(s) provide an entertaining and interesting tour, blending local history with the famous sights. Guides hold the Blue Badge, the highest standard of qualification available within the profession, awarded by the Institute of Tourist Guiding. Their live commentary is available in English in central London.
Types of Vehicle
The description of each of our vehicles includes the number of seats in each.
Tour Routes
We can offer a fully customised route to your requirements, of any length. It can be adjusted in real time depending on traffic conditions.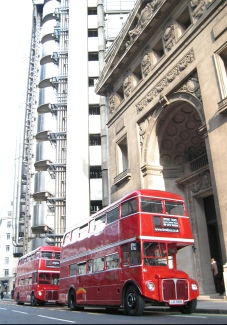 We can collect your guests from their hotel, St Pancras Eurostar terminal, Heathrow airport, or elsewhere, and return them after the tour. You may wish to stop for lunch or shopping, making a great day out in the Capital.
Our buses can also seamlessly connect with boat tours at piers on the river Thames, or even canal trips. Here are some London Tourism Links to help with planning.
Your Blue Badge Guide (BBG) may also walk you around many buildings and attractions on foot; breaking your journey and providing a more personal experience of the sights.
Tour Themes Available
Architectural
Historical
Cultural (eg Sherlock Holmes theme, the Beatles theme, street art)
By night (London looks great after darkness has fallen. Outside the summer months, we can operate during and after sunset)
Regional (see table below)
Dog's London (canine theme)
The following table contains examples of popular regions and highlights of interest. A tour of Central London, encompassing the areas shaded with pink backgrounds below, takes about 60 to 120 minutes. The other areas (shaded with grey backgrounds) take approx. 30 to 60 minutes each:
Fitzrovia & Bloomsbury
..academia and elegance
St Pancras Hotel
Kings Cross station
British Museum
BBC Broadcasting House
Knightsbridge
...Queen Victoria & Albert's legacy
Natural History Museum
V & A Museum
Albert Hall
Albert Memorial
Hyde Park
Harrods
Mayfair
...home of the jet set
Marble Arch
Famous hotels
St James' (members' clubs)
Wellington Arch
Apsley House
Clarence House
Westminster
...military, government & royalty
Buckingham Gate
Westminster Abbey
Parliament
the Cenotaph
Downing Street
Horse Guard's Parade
City of London
...financial centre & London's historic birthplace
Royal Courts of Justice
St. Bride's Church
St. Paul's Cathedral
the Bank of England
Lloyds building
Monument
the 'Gherkin'
East End
...origin of the phrase Cockney
Whitechapel
Spitalfields
'Jack the Ripper' sites
Queen Elizabeth Olympic Park
Kensington & Chelsea
...famous for fashion and football
King's Road
Sloane Square
the Royal Hospital
West End
...theatreland, Soho
Savoy Hotel
Piccadilly Circus (Eros)
Trafalgar Square
Nelson's Column
National Gallery
Admiralty Arch
River Thames
...cross the water for spectacular views
Lambeth Palace
the London Eye
Tate Modern
City Hall (London Mayor)
Tower Bridge & the Tower of London
the Shard
Docklands
...the new and the old
Wapping (ex-warehouses)
Canary Wharf
Booking and Rates
Quotations are individual. Our rates reflect the high standard of our vehicles, and the price will depend on the total number of hours, starting and finishing locations, and your guiding requirements.
If you would like a quote, please contact us with your wishes.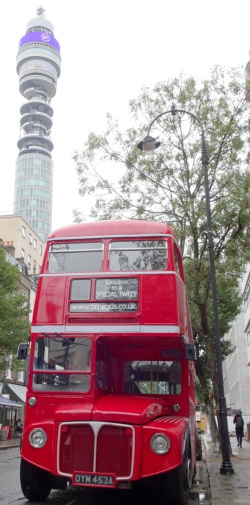 Limitations
We can quote for a complete, organized party- but we do not sell individual tour tickets, nor operate fixed sightseeing services.
We operate historic London buses- but not coaches, minibuses or modern buses.
We are not allowed to enter the Royal Parks (including Hyde Park & the Regent's Park) nor some roads around Buckingham Palace (the Mall, Constitution Hill, Birdcage Walk).
Not available in languages other than English or outside central London
Payment
Pre-booking and payment is required. This can be made by bank transfer or using one of the cards below by telephone.