Open Topper with Doors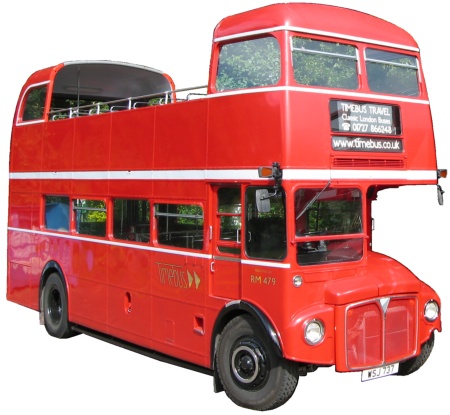 This open top Routemaster bus will add extra enjoyment for everybody, as part of it has been taken away! Thoughtful conversion to 'topless' makes this vehicle the ideal choice to hire for a sightseeing tour (perhaps with a London guide) or architectural survey.

A bright red open top double decker always draws attention to itself and any people on top, making it supreme for promotional campaigns on city streets.

From their commanding vantage point on top, passengers can enjoy the superb view, which is also ideal for photography and television productions. The front and rear sections retain a roof to provide shelter against wind and rain.

Our 'Open Topper with Doors' is fitted with electric doors for enhanced security. There is also an internal

public address system[Definition: Hand held microphone connected to speakers throughout bus interior.]

, luggage rack and

servery[Definition: Counter top located inside near bus entrance, useful for preparing drinks and snacks on.]

.

There are 24 seats downstairs, and 36 seats upstairs, making a total of 60. All seats comprise comfortable, deep cushions; even on the open top deck (unlike modern open toppers!).

A

conductor[Definition: Second crew member, alongside driver of bus. Looks after passenger safety, timekeeping, customer care, issuing any Souvenir Tickets. Always provided on Open Platform vehicles carrying passengers.]

is provided; for passengers' safety, comfort and convenience. He or she is available during the journey and can issue Souvenir Tickets from a period mechanical ticket machine as an optional service.

This bus can also be booked for our competitively priced, fixed itinerary Timebus Tourer guided London tour.

Gallery of more photos featuring this bus.


Historical information on this bus is available on our History Fact Sheet (PDF document).
Weather Conditions
This bus is available for hire between April and October only. If inclement weather arrives or is forecast:
you may wish to consider booking one or more closed top Routemasters in addition to an open topper, as this will give each passenger the choice of where to sit whatever the conditions
the lower deck is a watertight shelter (although when travelling, capacity is limited)
our bus conductor can provide some golfing umbrellas when the vehicle is stationary
we will try our best to substitute with a closed top Routemaster if requested at least a day in advance of a hire
some passengers don't mind getting wet!
---