Static Bus Hire
Our buses for static hire ('Timebus Space') are dedicated to this role and available over short periods (typically, 1 day up to a few weeks).
Our clients use these customised buses to be noticed and remembered at events.
The interiors are smartly decorated, clean and ready for the various uses described below.
Key Features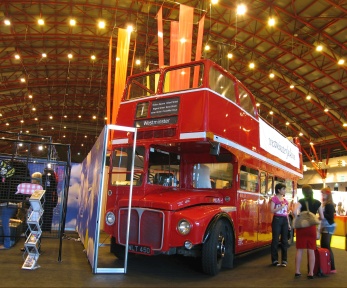 All of the Timebus Space fleet feature;
Classic double decker bus, draws attention from a distance
Commanding view from top deck
Mains electricity power points
Comfortable, deep cushioned, seating with tables
Large counter area, eg to serve water or snacks for hospitality
Areas for storage or staff facilities
Branding and customisation possibilities
Wi-Fi optional extra
Our corporate and public sector clients save the expense of purchasing or fully customising a vehicle- which may only be required for a few days a year! Instant set-up means no need to erect stands, marquees or crane in portable buildings.
An experienced Timebus driver will deliver our vehicle, ensure it is clean and positioned for your stationary use.
Buses
Further information, layouts and photographs of each vehicle can be found from these links:
Locations and Uses
Indoor Exhibition Halls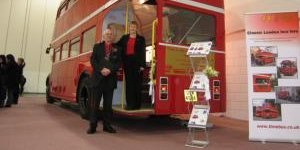 Booked stand space at a trade or consumer show? These buses can drive into ExCeL (London), Olympia (London) and the NEC (Birmingham). We recommend our Open Topper with Open Platform.
Possible uses for the inside of the bus at an exhibition are:
Sales discussions
Distribute marketing material
Product showroom - with at seat viewing or sampling
Multimedia presentation (Exhibition Bus only)
Media area
Outdoor Events
Running a public or community event, festival or staging a roadshow?
Possible uses for the inside of the bus are:
Event control centre
PA broadcasting or radio station DJ
Distribute publicity material
Multimedia presentation (Exhibition Bus only)
At Your Office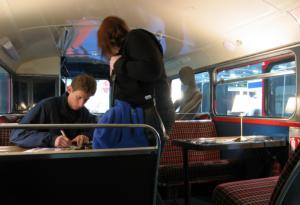 In need of some extra space for a short time? We recommend our Control Bus for...
Small meetings or reviews at client, vendor or other sites
Job interview sessions
Temporary office during refurbishment or removals
Staff training can be provided through video or live presentation on our Exhibition Bus.
If you would like an estimate for a static vehicle hire, the next step is to contact us with full details.
We also provide buses for carrying passengers, please see our Buses for Travel fleet.