Exhibition Bus
We recommend our Exhibition Bus to hire for exhibitions, roadshows and promotions; whether to the public or at trade events. It's a big, double decker red Routemaster.
Exterior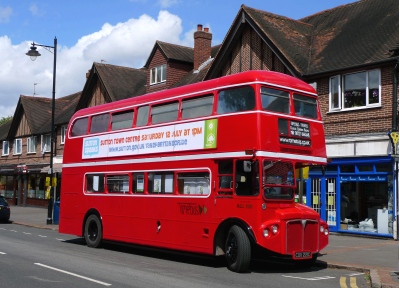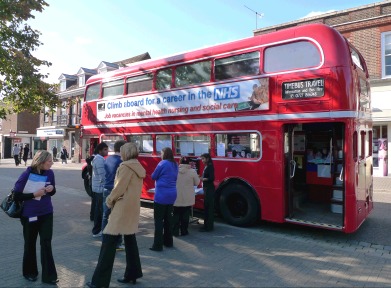 Large format branding panels can be slotted in frames along both sides of the vehicle, between decks, which creates attention-grabbing branding space. Personalized Signs can be fitted to the front.
Whilst retaining the traditional rear entrance of a Routemaster, doors are fitted, which are useful for security when staff are not attending. Timebus can provide a folding table at no extra cost, to display literature outside and entice visitors.
There are mains voltage electricity power points on both levels, and low energy lights throughout. The bus is fitted with a soundproofed, whisper-quiet, integral generator to provide power where there is no shore supply available. There is a system to heat both decks when parked outdoors.
Lower Saloon
Downstairs is an open area with plenty of circulating space and flexible uses. Towards the front is a counter, which seamlessly curves round into two breakfast bars. The counter can be used for a flat screen TV, pamphlet or book displays, or light refreshments. Fitted cupboards are beneath.
The walls are trimmed with soft carpet, and there is a wood laminate floor. Loose furnishings (such as height adjustable stools, tables or free standing leaflet dispensers) can be brought in.
Perspex panels are beside all side windows, for displaying inward and outward facing A3 or A4 information posters. Leaflet holders are located under some of these. There is a long poster display space above the windows, rising to the ceiling. A clear presentation cabinet with 2 shelves is near the entrance; useful for merchandise or awards.
Upper Saloon
Upstairs contains 22 fixed seats, re-trimmed and comfortable. 18 of these are forward facing. There is a large flat screen monitor provided, creating a mini cinema suitable for multi-media presentation.
The windows are tinted, to prevent glare and make for easier screen viewing, and to reduce heat build up when parked outside. An oscillating tower fan is available.
As downstairs, there is a long poster display space above the windows, rising to the ceiling.
To both the front and rear there are table bays with facing seats, useful for meeting or reception spaces. There are several drinks shelves around the saloon perimeter, and a storage unit at the front.
The front contains a separate, doored galley with sink. A catering urn is available for providing boiling water for drinks and washing.
General
Wi-Fi is available at outdoor events as an optional extra.
Please note that this bus is part of our 'Timebus Space' brand and does not transport passengers.

Gallery of more photos featuring this bus.


Further information on this bus is available from our History Fact Sheet (PDF document) and floor plans (available on request).