About Us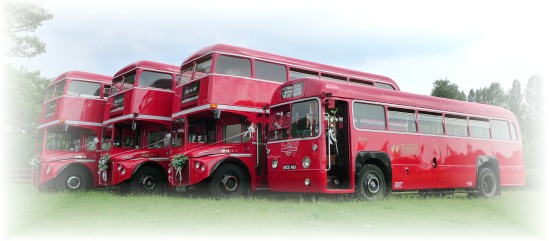 Timebus specializes in traditional former London buses of the 1950s to 1960s era, restored and maintained to the highest possible standards. We are a friendly, family run, independent business established over 30 years ago (in 1987). We serve the discerning, by paying great attention to detail and quality.
Our Ideas section contains many possibilities for all kinds of occasions and applications (including family celebrations, day trips, funerals, guided tours of London, promotions and static events). 'Ideas' also include optional extras and ways of personalizing your guests' experience (such as our florist's free of charge decoration for weddings).
Our pictures and descriptions can help you choose buses best suited to your needs. For example, we have a rare old "low bridge" double decker, but can also provide relatively newer "Routemaster" models which retain the classic style. We also offer a smaller, single deck 1950s bus. We own over a dozen buses in our fleet, mostly bright red. We do not sub contract to other operators. Our buses for travel are licensed & insured for carrying passengers.
We are based near the Capital, and operate within Greater London and the surrounding area. Please see the Frequently Asked Questions (FAQ) for further information on our sphere of reach, and some essentials you should know about hiring a Timebus.
Whatever your choice, you can be sure that your guests or representatives will be the centre of attention in a "Timebus".
More Information

Frequently Asked Questions (FAQ)

Free
brochure download

Web site information
including privacy and security

Environmental statement

Charitable partnerships

Recruitment
Licensed operator of Public Service Vehicles: DVSA reference PF0001220.
VAT registration number: GB 600 6690 65.