Environmental Statement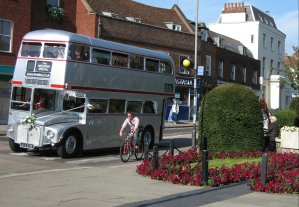 All buses and coaches provide an ecologically more viable alternative to cars or taxis. Our double deckers make optimal use of the space available, thereby minimising not just their carbon footprint, but also their congestion footprint on the road.
Our continuing use of heritage vehicles is greener than purchasing new vehicles every few years. Timebus arranges for ongoing refurbishment and decoration of our buses, to keep them looking like new, without the energy wasting cycle of scrapping and replacing. Likewise, they are maintained to the same high mechanical standards as contemporary buses.
Timebus is committed to a gradual programme of harmful emissions reduction. This is achieved either by replacing elderly engines with newer, less polluting designs, or the installation of exhaust after treatment, which cuts down particulates.
The Routemaster bus (whether fitted with the original or new engines) is more fuel efficient than modern vehicles. This is because it was designed to be as lightweight as possible, and is integrally constructed from Aluminum, with no heavy chassis underneath. An empty 72 seat Routemaster weighs 7.9 tonnes, compared with modern double deckers which usually weigh over 11 tonnes. All that extra weight wastes fuel, and, therefore, carbon.
Our vehicles are not fitted with luxuries which use additional fuel. An example being air conditioning; natural ventilation is achieved through opening windows (which are also less isolating from the outside world). They all do, however, have heaters available. Most of our Routemasters are fitted with low energy fluorescent interior lighting instead of old fashioned bulbs.
The power to weight ratio of our buses, compared to modern vehicles, helps our drivers lower fuel consumption through better driving technique; avoiding the start-stop roller coaster ride! Additionally, our drivers will not leave vehicle engines idling for long periods when parked.
Our office is illuminated by low energy lighting. Waste paper is recycled.
---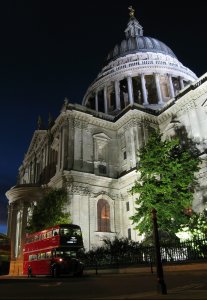 Wedding Transport
We encourage our clients to consider these ideas for greener wedding transport:
serve Champagne at the reception venue in real glasses, not plastic
recycle empty bottles
use biodegradable confetti instead of metal foil
before the ceremony; use a Timebus to transfer guests to the ceremony venue as well as taking them away to the reception afterwards
after the ceremony; if the happy couple travels with their guests in a Timebus rather than a separate limousine, it will be fun, eco-friendly and help break the ice. We can reserve specific seats