Funeral Bus Hire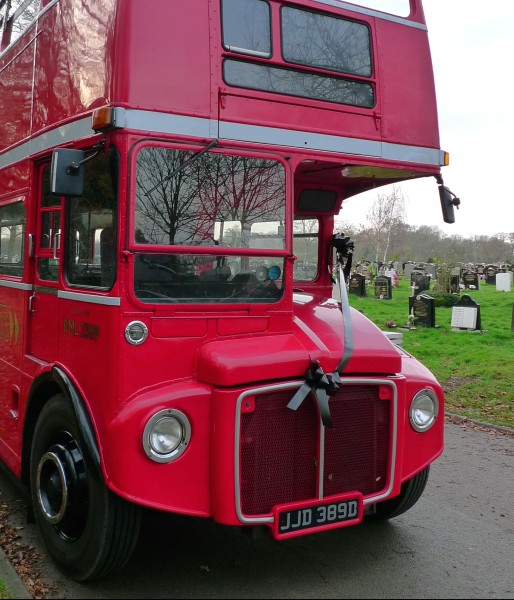 Our customers choose our classic red London Routemasters for a less formal, and more environmentally friendly, alternative to a traditional cortege of cars at a funeral or memorial service.
They are especially poignant marking the passing of a loved one who had a strong association with buses. This might be someone whose career was in the industry, such as a bus driver or conductor, or who held a passion for these iconic vehicles, such as a bus enthusiast, photographer, author, preservationist or museum volunteer.
Our buses are hired for transporting mourners, and sometimes also a late loved one in their coffin on board.
At this difficult time for the bereaved, be assured that everyone at Timebus will be sensitive and sympathetic to the occasion.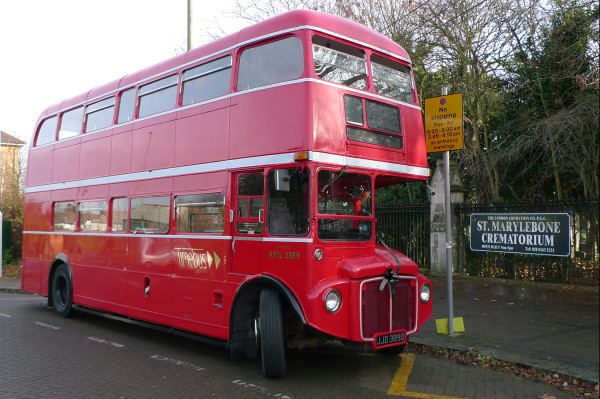 General Features
Our qualified florist can provide free of charge, if required, a ribbon sash over the bonnet coloured black, purple, mauve or other choice.
Destination blind displays can be set to plain black blanks.
The crew will be smartly dressed in charcoal grey suits.
Close family members might decide to travel on board the bus, or they might choose to ride in a chauffeur driven car as part of a procession.
London Venues
Some large London cemeteries we have visited on hire are:
Breakspear Crematorium, Breakspear Road, Ruislip HA4 7SJ
East Finchley Cemetery & St Marylebone Crematorium, Tangle Tree Close, off East End Road, East Finchley, close to N2 0XH
Golders Green Crematorium, 62 Hoop Lane, NW11 7NL
Hendon Cemetery & Crematorium, Holders Hill Road, NW7 1NB
Highgate Cemetery, Swains Lane, N6 6PJ
Islington Crematorium, St Pancras & Islington Cemetery, 278 High Road, East Finchley N2 9AG
Kensal Green Cemetery, Harrow Road W10 4RA