Hearse Bus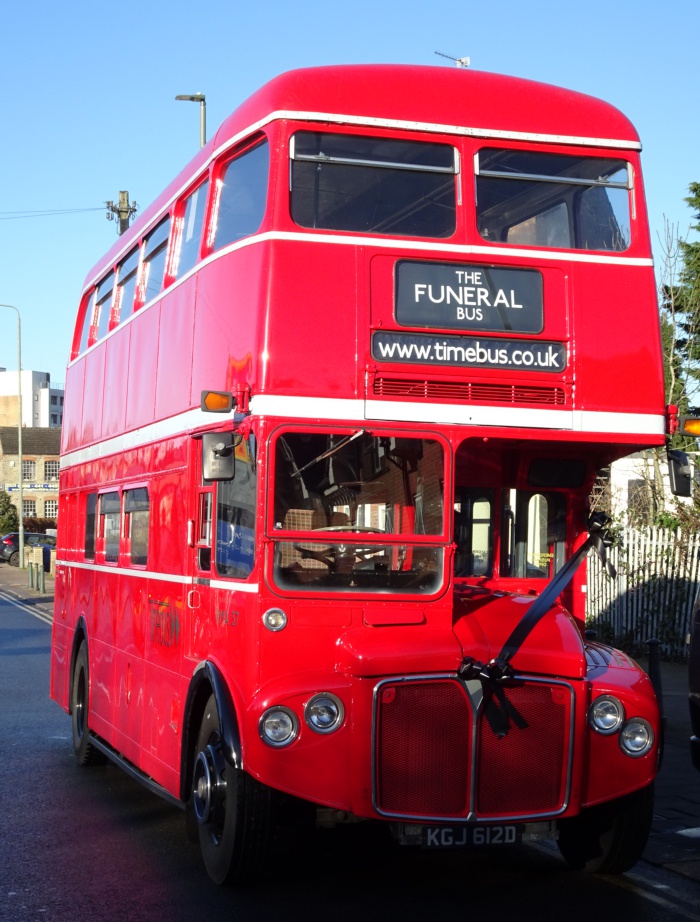 Our Routemaster Express buses are suitable for carrying a casket or coffin.
The bus would first collect the deceased from their place of rest (typically a funeral director). The coffin is carried with dignity by four people (undertakers, pall bearers or funeral directors) into the lower saloon and laid along the centre onto felt covered supports (which we provide) at a low level.
The maximum coffin width is 63cm including handles, and the maximum total weight 135kg.
Floral arrangements and tributes can be placed on and around the coffin for the deceased's final journey.
The bus can go on to pick up mourners (perhaps from a family home or meeting point), and travel to the funeral service at a cemetery or crematorium. This allows the mourners to be close and feel united to their loved one. The bus often also carries passengers on to a wake after the service.
When the coffin is on board, passengers travel upstairs, where there are 32 seats. At other times, 57 seats are available over both decks.
The photos above were staged with an empty coffin, deliberately without flowers or tributes included, with the kind and professional assistance of Brooks Funeral Directors, who are available for all funeral services in North London.
Other Features
Our qualified florist can provide free of charge, if required, a ribbon sash over the bonnet coloured black, purple, mauve or other choice.
The crew will be smartly dressed in charcoal grey suits.
The destination blind display on the front can read 'THE FUNERAL BUS' or be plain black.
This service is available in the SouthEast England counties of London, Beds, Berks, Bucks, Cambs, Essex, Hants, Herts, Kent, Northants, Oxon, Suffolk and Sussex.
Please allow our experienced office consultants to tailor funeral bus hire to your needs, working in cooperation with your funeral director.