Routemaster Express
The Routemaster will always be London's classic bus, a timeless symbol of the Capital as much as Big Ben or the Thames.
In addition to local trips, the Routemaster Express type is suitable for relatively long journeys. Originally built in the sixties for express services, they are equipped with doors and a more luxurious and spacious interior than normal Routemasters.
Their higher cruising speed of 50mph (compared to 40mph for other types; see comparison chart) often allows us to offer Routemaster bus hire more economically to further flung cities such as Oxford, Bedford, Cambridge, Stamford, Southend, Brighton, Southampton and Reading.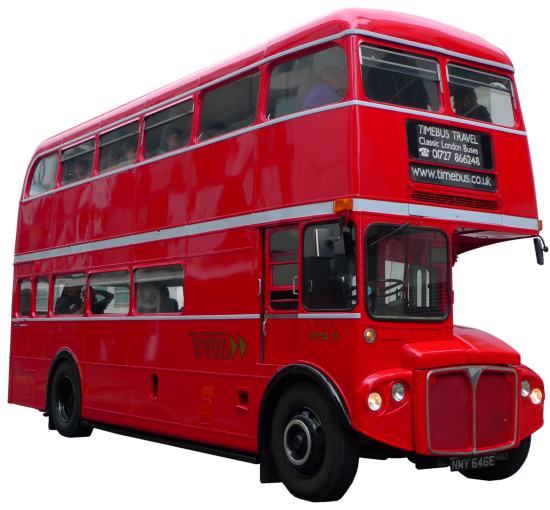 There are 57 seats, but if you require more than one bus, we can provide a second Routemaster Express, or they can be used in conjunction with our other buses.

Our Routemaster Express vehicles are smartly painted red externally, and refurbished internally, including a

public address system[Definition: Hand held microphone connected to speakers throughout bus interior.]

. The spacious travelling environment has overhead racks for hand luggage. The upper saloon is very well suited for sightseeing.

Routemasters are ideal for day trips, weddings, tours and excursions. They will also attract attention for filming work, promotions or special events. They are outstanding, versatile vehicles.

Gallery of more Routemaster Express photos.
Our Routemaster Express types of bus are powered by 21st Century Cummins engines, fitted with catalytic converters, and conform to 'Euro 2' low pollution levels.

Historical information is available on our individual Routemaster Express History Fact Sheets.