Open Platform Routemaster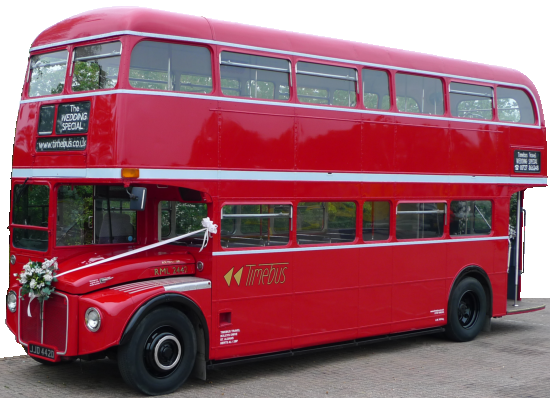 Our
Open Platform Routemaster
buses for hire are painted in immaculate pillar box red externally. Internally, they are fully refurbished, including a
public address system.

[Definition: Hand held microphone connected to speakers throughout bus interior.]
Outside and in, we always ensure they are presented thoroughly clean.
The number of seats is 64 or 72 per bus, although we can provide more buses to your requirements, allowing conveyance of large or small groups.
This sort of traditional Routemaster will always be London's classic bus, a timeless icon just like Tower Bridge or the Houses of Parliament. This outstanding, versatile bus type was even built in the capital (by AEC and Park Royal), between 1959 and 1966. It remains ideal for transfers, weddings, tours, promotions and sightseeing. It is most suitable for short to medium length journeys.
Passengers board via the
open platform

[Definition: Entrance area, without doors, towards rear of bus. Leads directly to the staircase on double deckers. Not the same as Open Top.]
at the rear, and may then either enter the lower saloon, or go up the spiral staircase to the closed top upper saloon (top deck). The seats are moquette covered with a red or blue theme, and mostly arranged in pairs, providing a spacious travelling environment.
A
conductor

[Definition: Second crew member, alongside driver of bus. Looks after passenger safety, timekeeping, customer care, issuing any Souvenir Tickets. Always provided on Open Platform vehicles carrying passengers.]
is always provided; for passengers' safety, comfort and convenience. Unlike coaches and limousines which are staffed by a driver only, the conductor is always available during the journey. The conductor can issue
Souvenir Tickets
from a period mechanical ticket machine as an optional service.

Gallery of more Open Platform Routemaster photos.
Some of our Open Platform Routemaster vehicles are powered by 21st Century Cummins engines, fitted with catalytic converters, and conform to 'Euro 2' low pollution levels.

Historical information is available on our individual Open Platform Routemaster History Fact Sheets.