Control Bus
We recommend this bus as a control centre for outdoor events, or as a mobile venue at your organization's premises to hold small meetings, job interview sessions, or as a temporary office.
The vehicle is smartly painted a rich rural green, a colour it has borne since it was first built in 1952 as a London Transport bus. The large radiator and slightly lower height create an endearing and friendly appearance.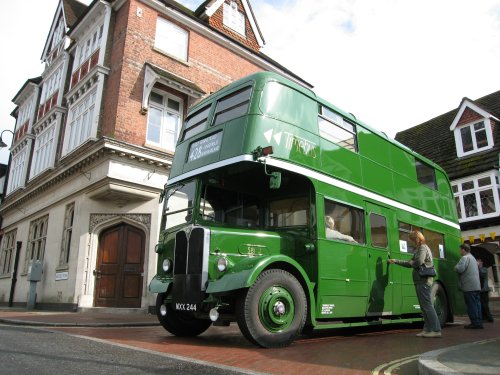 On entering the bus from the door in the centre, the reception area to the left contains 4 inward facing seats, with an option to have a table between them. The reception area can be open to visitors wishing to drop in, or used to distribute leaflets, or as a waiting room. Towards the right there is a sliding door, with a serving hatch in it. Beyond the sliding door, the rest of the vehicle is an area best suited to staff or exhibitors only, rather than the public. On the lower deck there is a large counter, and storage facilities. Upstairs, there are 8 seats arranged around a table, and a large empty space.
There are mains power points on both levels, and fluorescent lights, both active when the vehicle is connected to a shore supply.
Banners cannot be fixed on the vehicle exterior, but Personalized Signs can be fitted into the front, and posters can be displayed on the inside of any windows.

Further historical information on this bus is available on our History Fact Sheet (PDF document).