Timebus' 25th Anniversary: 6th October 2012

The photos below were taken on Saturday, 29th September 2012, at our depot. They show the 11 buses, 21 people (and 1 dog!) that worked for Timebus on that day. If you appear in these photos, a link has been emailed to enable you to download a large size version.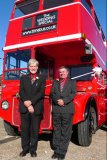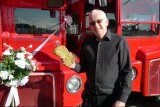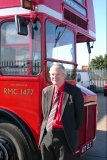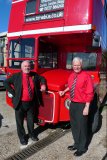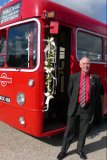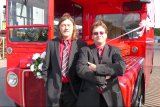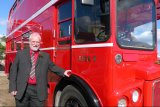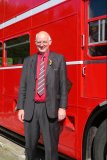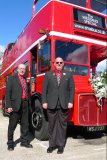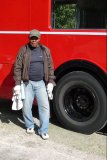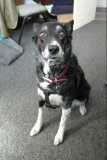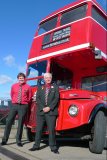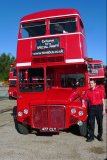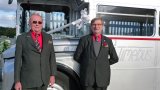 The final departure that day, appropriately enough, was our Silver Routemaster which was originally painted Silver to celebrate the Queen's 25th anniversary.

The following day, Sunday 30th September, we used the vehicle that started it all - our red Regent Low Height (RLH 23) - for an excursion to the Mizens railway near Woking, Surrey. Here a cake was cut amid silver and red balloons and decorations.

Our RLHs are 60 years old this month, and so we combined the anniversaries and travelled over old RLH route 436 from Staines to Woking, including passing under the still extant low bridge.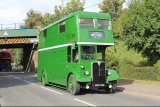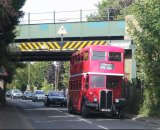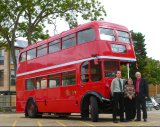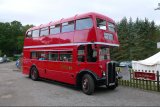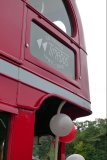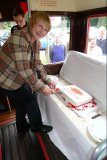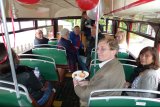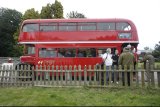 Timebus began with our Regent Low Height (RLH 23) in October 1987. This was kept in a variety of locations including London bus garages, Borehamwood and Cobham (Surrey).

During the mid 1990s, we operated some local bus routes in the Watford, St Albans, Hemel Hempstead and Abbots Langley areas of Hertfordshire with Open Platform Routemasters (on Sundays we used our Regal Four or first Routemaster Express - RMA 37). During this time we were based in the villages of Park Street, then Colney Street, and finally Hartspring (Watford).

Since 1997 we have concentrated purely on private hires with our fleet, which has steadily grown and currently stands at 20 buses (a couple of which are off road, under restoration).

We wish to pass on our thanks to all our staff and suppliers, who make Timebus the premier operator of classic London buses.