Origins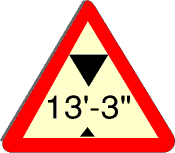 RLH stands for "Regent Low Height"; being 13 feet 4 inches (4.06 metres), this height enables the type to pass under lower railway bridges than normal double decker buses, which are around one foot higher. The reduction was achieved by creating a sunken upstairs gangway along the offside (=the side opposite the kerb, ie the right hand side in the UK), and having rows of 4 seats together beside it. This method of design was not new, for a fleet of 50 previous "lowbridge" bus types existed in London in 1952.
The RLHs were composed of a provincial style Weymann body (built in Addlestone, Surrey), mounted on an AEC Regent III chassis (built at Southall, Middlesex), as were many other very similar buses.
The first batch of 20 RLHs were originally intended for Midland General as part of an order for 30 lowbridge provincial buses. Only 10 were actually required and the remaining 20 were offered to London Transport who bought these instead, and then a new order for the second batch of 56 slightly different vehicles two years later. These were used to replace 42 low bridge STL type buses dating from 1934 and 1942-45, and 8 low bridge ST Regents dating from 1930.
Most of the 76 RLHs were painted green and used in the Country Area of London Transport, and some to its successor London Country. A minority were painted red for use in the Central Area of London Transport. See the London Transport Operations page for more details of routes and garages during this period.
The last RLH to run in London Transport service was in April 1971 in Dalston. But for the majority of the class, this was only the end of one chapter in their existence- for many were to go on to 'second lives'.