Weymann (& MCW)
Introduction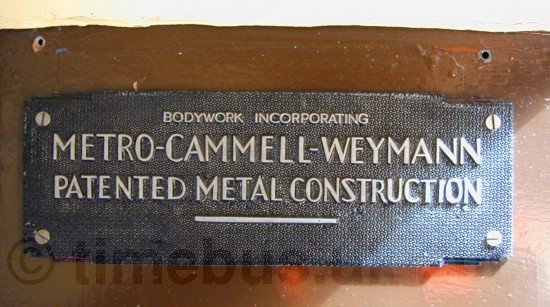 Weymann were a motor body maker latterly based in Addlestone, Surrey. They manufactured the RLH body, in addition to many thousands of other steel and composite framed double deck and single deck bus (and a few coach) bodies from the 1930s to the 1960s.
Body makers were also expected to fit their product to each chassis (supplied from another maker) and usually to paint it in the colours of the operator, after which it could be driven away as a finished vehicle. There were usually many options and customisation possible, meaning no two orders were ever the same.
From 1937 to the early 1950s (except wartime utility bodies), Weymann double deck buses were of a similar and attractive style; such as incorporating a very rounded rear dome, distinctive front dome form, and optional ventilator slots above the front upstairs windows.
The timeline below concentrates on major events 'on the ground' with particular emphasis on the bus industry. It does not cover the more intricate points of ownership, financing and direction, for which the reader is referred to John Senior's excellent books (see bottom of page).
It is easy to confuse the similar initials MCW and MCCW, which pop up in the timeline below, along with the name Weymann - but they are different.
Timeline
1921- Charles Terres Weymann (a Frenchman born 1889 in Haiti) built his first motor vehicle body in Paris, using fabric covered wooden aircraft building principles he had learned whilst experimenting and piloting
1923- Charles started a company in London in August which licensed body makers such as Harrington, Plaxton, Gurney Nutting, Martin Walker and Mann Egerton to use the principles he used in Paris
1925- On the 24th November, 'Weymann's Motor Bodies Ltd' was founded to build car bodies in Britain, using an ex Cunard Motor and Carriage Works in Putney
1928- Moved from Putney to Addlestone, taking over an aircraft hangar that had been constructed in 1916 for Blériot. Located in Station Road, it remained the main factory until Weymann finished in 1966. Also, a factory opened in Indianapolis, USA to make Stutz car bodies using the Weymann method; however fabric bodies were obsolete by this time, and that had closed by 1931
1929- Started building bus bodies back in the UK; initially fabric covered with the same patented flexible wooden construction methods used on the cars, but before long moving to Aluminium panelled
1930- AEC Regals for London General Green Line Services were the first public service vehicle Weymann bodies to have composite construction (mainly wooden framing, but with steel filch plates). Also, the first double deck bus bodies built. On 11th October, Green Line Coaches Ltd started a service from Chertsey to London (via Weybridge and Kingston to Charing Cross). As a temporary measure, the coaches for it were parked on the Weymann site at Addlestone
1932- Charles Weymann resigns from the board in January. A new sales company was formed, Metropolitan Cammell-Weymann Motor Bodies Ltd (MCW), to sell bodies from both Weymann and Metropolitan-Cammell Carriage and Wagon Company (aka MCCW or just Metro-Cammell). Metro-Cammell were a Birmingham firm who had built railway rolling stock for over 100 years based at Saltley/Washwood Heath, and had also been building buses for just 3 years from a factory on Bickenhill Lane, Elmdon, Birmingham. Designs and knowledge were shared between Weymann and Metro-Cammell; this lead to the first metal framed Weymann bus bodies
1934- Arthur Thomas Froggatt becomes Weymann's General Manager. He remained in leading roles until retirement in 1951. Froggat, Izod and Homfray-Davies were three board members who were the driving force behind the business. Also, after the formation of London Transport the previous year, in December all Green Line and Country are bus garages were allocated codes. 'WY' was allocated as the Weymann parking area alongside the river Wey used by Green Line coaches
1936- London Transport opened a bus garage of their own in Addlestone on the 30th of June, and so the vehicles previously stored in the Weymann parking area were transferred less than a mile to the new garage, which retained the same code - hence the reason for the code for Addlestone garage being 'WY'; which was to remain throughout the years RLHs would in future operate there
1935 to 1939- Bodies being sold for use in London, Trent, Midland General, South Shields, Northern, Bournemouth
1939 to 1945- Almost 9,000 military vehicle bodies were made during World War II (eg tractors, radio vans, armoured vehicles, tank transporters). Over 700 Utility bus bodies were built to a cost saving design from 1942. A total of 1,521 buses were built during this period
1945- United Molasses (the global sugar products shipping outfit) took over a controlling stake of Weymann around this time, which was retained until 1963. Also, J Block opened in the Weybridge Trading Estate, an former aircraft hangar acquired to boost capacity. It was used to build over 2000 metal framed RT bodies on AEC chassis for London Transport, over the next eight years
1948- MCW entered into an agreement with Leyland to collaborate on integral designs (no separate chassis and body), and this may also have involved favouring one another with traditional body-on-chassis business. The two MCW factories, Weymann and Metro-Cammell, produced over 2000 buses this year between them.
1949- Weymann production peaked at 972 units in this year, by around 1500 employees. Also the Olympic model was launched in conjunction with Leyland, a single deck bus of integral construction with an under floor engine. More popular abroad than with UK operators, nonetheless over 1000 were sold by 1957. Finally, near the end of the year the last composite construction buses were made, future output being of metal framed (or integral) construction.
1950- building of the first batch of 20 RLH bodies, and the 10 lowbridge bodies for Midland General from which the RLHs followed
1952- building of the second batch of 56 RLH bodies, for London Transport, and said to be in compensation for a reduction in the overall number of RT bodies compared to what was originally ordered
1953- the final RT model bodies were built (in J block) for London Transport (LT); over 2,000 had been constructed in total. It is also of related interest that an LT order for 700-odd single decker RF model bodies was allocated by MCW (which still controlled all production allocations, it must be remembered) to Metro-Cammell in Birmingham in compensation for Weymann getting the RT 'job'
1954 to 1955- built 200 Green Goddess mobile pumps for the Auxiliary Fire Service, registrations NYV 686-885. These were fitted to Bedford chassis as part of a fleet of several thousand standardized vehicles used all over the UK to supplement (and occasionally replace) normal fire service appliances up to 2004. Co-incidentally, the model code was RLHZ! Also, around this time, Weymann built 325 command post vehicles on Ford chassis for the Home Office (civil defence)
1957- Weymann and Leyland built a single integral prototype Routemaster (fleet number RML 3), although LT chose rival body builder Park Royal to build the production batch in the end
1958 to 1965- 390 London taxi bodies made for Beardmore
1961- On the 4th July, a fire gutted a third of the factory. It was caused by caulking tar left on heat overnight to build a boat hull, a new innovation to help keep business flowing
1962- built the last new trolleybuses for Britain (Sunbeam MF2B type for Bournemouth)
1963- Metro-Cammell purchased Weymann in June from United Molasses. This signalled the end of a prior agreement which saw 40% of the work drummed up by the joint MCW sales organisation going to Weymann in Addlestone and 60% to Metro-Cammell in Elmdon, Birmingham. This lead to an inevitable bias in favour of Birmingham receiving work in favour of Addlestone
1964- striking lasted for 21 weeks, almost stopping output, and resulting in many lay-offs
1965- closure of Weymann's (only) factory at Addlestone announced
1966- the Addlestone factory closed
Subsequent History of Weymann's Addlestone Site
1967- the old buildings found a new use with Plessey Radar, who made display systems there, along with carrying out sales and management functions
1990- Plessey was renamed Marconi when GEC and Siemens took over
1998- The site closed in March
2001/2002- The buildings were demolished
2003- A new office development called Aviator Park was completed, but remained empty for 2 years before the first tenant was found. This development remains in place (as of 2020)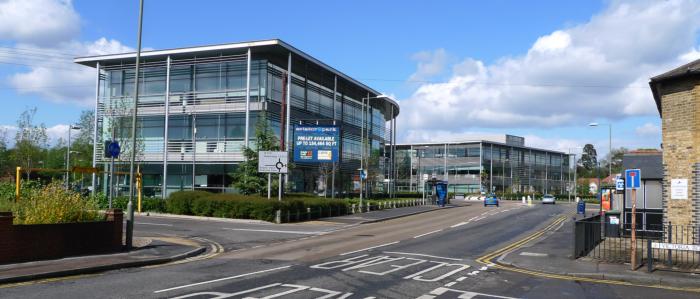 Subsequent History of MCW
1966- Since the Weymann factory in Addlestone closed, only the MCW brand was used for buses sold, owned entirely by Metro-Cammell. Even though the W in MCW stood for Weymann, Weymann didn't really exist from that point; just a handful of staff moved from Addlestone to Elmdon. Bus bodies continued to be built at Elmdon, Birmingham
1966- A drawing office opened in Frimley, Surrey containing ex-Weymann staff. This lasted less than 2 years
1969- the MCW Elmdon factory closed and bus production moved to Washwood Heath
1977- MCW also built bus chassis (as opposed to bodies only) by this time, such as the Metrobus model
1989- MCW ceased to be. Bus production was taken over by DAF Trucks and Optare, and the Metrocab model taxi business was sold to Reliant
Books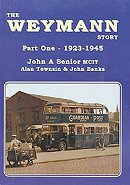 the Weymann Story: Part One - 1923-1945
by John A Senior MCIT, Alan Townsin and John Banks
1st Edition - 2002
Publisher: Venture Publications Ltd
ISBN 1898432368
21cm x 30cm, hardback, 176 pages, 250 B&W illustrations
---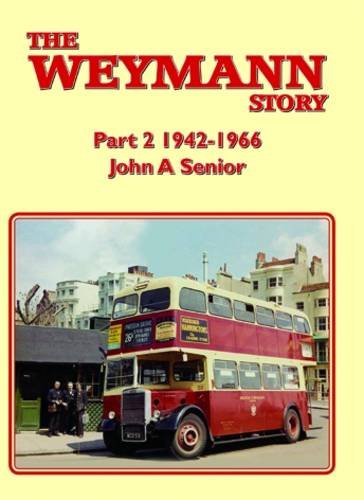 the Weymann Story: Part 2 1942-1966
by John A Senior
1st Edition - 2012
Publisher: Venture Publications Ltd
ISBN 9781898432609
21cm x 30cm, hardback, 195 pages, Colour and B&W illustrations
---
Air-Road-Sea Addlestone: the Blériot-Weymann-Plessey Works 1916-1988
by J.H. Rowe
1992
Publisher: D.M. & J.L. Barker
ISBN 0951865811
17cm x 23.5cm, softback, 64 pages, B&W illustrations
---
Acknowledgements
Many thanks to the following for their contributions towards this page:
© Timebus 2001-2020