AEC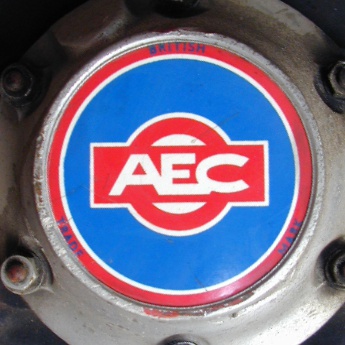 Associated Equipment Corporation (AEC) began in 1910 and was registered in 1912, as the vehicle manufacturing arm of the London General Omnibus Company (LGOC).
From an East London factory in Walthamstow (previously owned by the Vanguard Company), buses were designed and made.
Petrol vehicles manufactured include: X-type (1909), B-type (1910), K-type (1915), S type (1915), NS type, trolleybuses, LS (1927), Guy 6-wheeler, Reliance, ST Regent (double deck), Regal (single deck), and LT Renown (1929, 3 axle double deck).
Diesel vehicles manufactured include: LT, Q-type, and STL.
Vehicles initially carried LGOC on the radiator tank, but from 1912 to the end of the Company, all vehicles for London were badged AEC.
AEC and Daimler sold their vehicles through the same channels from 1912 to 1928.
In 1926 the works moved to Southall in West London.
A trademark 'ALCO' was made for vehicles supplied to South America, to avoid confusion with the German company AEG.
In 1926 the LT Bullseye motif was devised, such badges carrying the name 'AEC' for vehicles outside London or 'General' for the capital.
Because AEC's owner, the Underground Electric Railway Company, was due to become part of London Transport in 1933, AEC became independent.
In 1937, AEC started developing a new engine (initially 8.8 litres then settling on 9.6 litres capacity) and a new chassis for London double decker buses. This became known as the RT. Approx 7000 of these were built over 15 years from 1939, mostly after the war, and they were very successful.
During World War Two, from 1940-1945, AEC bus production stopped temporarily as construction focussed on goods and military vehicles. The main works suffered no signifcant bomb damage during air raids despite being a Luftwaffe target.
In 1946 AEC entered into a joint venture with Leyland called British United Traction (BUT) to sell trolleybuses and railcars.
From 1st October 1948 a new holding firm, Associated Commercial Vehicles (ACV), included AEC but also Crossley and Maudslay which AEC had in effect taken over. Park Royal Vehicles and Roe also joined ACV in 1949.
The company made trucks, trolleybus and bus chassis for operators throughout the UK and for export in the 1950s, but was always the preferred source for London Transport - including of course the RLH chassis, which was the Regent III model that was based on the London RT and sold widely in the UK. The Regent III was superceded by the Regent V model in 1954 but still made until 1956 (8,633 were produced).
A prototype Routemaster was produced in 1954, the result of a joint project between LT, AEC and Park Royal. It featured an integral, mainly alloy, construction. Nearly 3000 Routemasters were built in the production run from 1958 to 1967, the vast majority for LT.
Thornycroft was merged into ACV during 1961.
Leyland acquired ACV in 1962, but the AEC brand and Southall factory continued. Leyland become heavily involved in car making from May 1968 when it become known as British Leyland Motor Corporation. Following poor performance this was nationalised in 1975.
The former AEC factory at Southall closed on the 25th May 1979. By this time it was mainly producing lorries. Leyland's remaining commercial vehicles arm was purchased by DAF in 1986.