RLH Bus Information Centre
RLH Buses for Sale
Serious enquiries only. The owners of vehicles on this page would be interested in selling their buses to new owners who will be able to look after them.
Please bear the following points in mind before you consider buying a double decker bus:
Where will you store it? To restore the vehicle and keep it in good condition, you will probably need under cover accommodation. These buses are big! The door height of many barns and outhouses is too low for these buses, which are 13 feet 4 inches high
Do you have the resources to look after it? Restoration demands money and time commitments and can take a long period. Mechanical parts may be difficult to obtain except buying from the UK.
Will you be able to drive it? Remember the cab is on the right hand side of the bus. The steering is very heavy and there are no luxuries! The maximum speed is 35mph. Does your driving licence and/or skills allow you to drive a bus?
How will you move it to its new home? It may not be as simple as starting up the bus and driving there. Towing and shipping are expensive.
Where will you drive it in future? You will need to arrange an unusual insurance policy. In the US and Canada, many bridges are too low to pass, even on main highways.
On the more positive side, here are some reasons why you might consider buying an RLH rather than any other old London double decker:
The low height (13 feet 4 inches compared to around one foot more for some other double deckers) allows access to more locations, and may be required depending on national or local vehicle height restrictions
A very attractive appearance externally, and a homely interior
RLHs were London buses (many British double deckers abroad were never used in London)
All structural components in the body are steel rather than wood.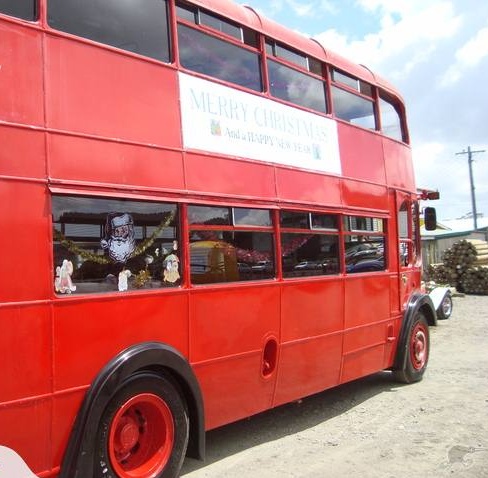 Above: RLH 50 is for sale (September 2012)
Bought an RLH? Please see the Further Information for Owners page!
© Timebus 2005-2015