<![if !vml]>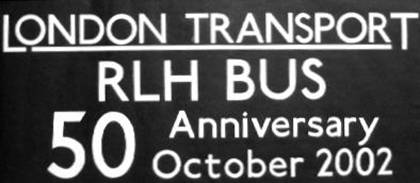 <![endif]>
<![if !supportLists]>· <![endif]>Two main route recreations, one in the Country Area and one in the Central Area

<![if !supportLists]>· <![endif]>Travel under a Low Bridge in an RLH

<![if !supportLists]>· <![endif]>Dusk photographic opportunities (interior lights blazing!)

<![if !supportLists]>· <![endif]>Garage photo shoots at Harrow Weald and Guildford
All journeys today (Sunday 13th October) are free of charge and you can board and alight at any of the stops advertised in the timetables. However, please make sure you can make your way home again as not all the feeder services return to the same position at the end of the day.
If you are planning to join us for the whole day, a lunch break will be taken at the old Staines West Station, giving walking access to facilities in Staines Town Centre.
Please don't delay the buses, the departure times from pick up points and photo stops need to be kept to, and can all be found listed here. Please stand on the pavement when taking photographs.
Event organized by R. Proctor and E. Pring with the gratefully acknowledged and vital support of Metroline, Arriva Buses, Timebus and London Bus AG (Switzerland).
TODAY'S COMMEMORATIVE ROUTES
The route pattern represents both Country Area and Central Area RLH operations. Guildford and Harrow Weald Garages were chosen, as they remain much as they were during the RLH years.
The first RLH route (and the oldest) was the 336 from Amersham, and we hope that you were able to join us last Sunday to commemorate that with two of the RLHs also.
Route 436 Guildford - Staines RLH operated from Sep 1950 until Jul 1970
Route 463 Guildford - Walton RLH operated from Sep 1950 until Jul 1970
Route 461 Walton - Staines RLH operated from Sep 1950 until Jul 1970
Route 230 Rayners Lane - Northwick Park RLH operated from Dec 1952 until Jun 1969
Route 230A Harrow Weald Garage- Northwick Park RLH operated from Oct 1962 until Jan 1966
This RT route did not pass under any low bridges, but was operated by RLHs when required
"Feeder" routes:
Route 353 Berkhamsted – Windsor Operated by Amersham RLHs on an ad hoc basis
to cover for RT's (no low bridges)
Route 703 Wrotham – Amersham Possibly operated by RLHs on QEII's Coronation (6th Jun 1953)
as relief coaches from Amersham to London (required due to low bridge at Amersham Common).
THE RLH STORY
Since the replacement of open-top double-deck buses with closed-top vehicles in the early 1930s, London Transport (and its predecessors) found it necessary to use a limited number of "Lowbridge" designed buses to accommodate heavy loadings on routes passing under bridges with clearance heights lower than 14'6".
"Lowbridge" buses came from a variety of sources - the earliest being 8 AEC Regents dating from 1930 which originally ran on route N6 (later 336 in L.T. numbering) under the Metropolitan Line's 13'6" clearance bridge at Amersham Common. Then in 1934 route 410, which passed under a low bridge at Oxted, was converted from open-top double-deck with the purchase of 12 new "Lowbridge" AECs - affectionately known as "Godstones" as they were all based at that Garage.
During the second World War the increased need for public transport caused two Central Area routes to be converted from single-deck to "Lowbridge" double-deck operation, so 10 Daimlers were bought for route 127 at Merton and 20 standard STLs were converted at Chiswick Works to carry "Lowbridge" bodies. These 20 STLs were shared between route 230 at Harrow and routes 436/461 & 462 operating from the Addlestone area into Staines, thus replacing single-decks in both locations.
By the late 1940s the oldest vehicles in the "Lowbridge" fleet were badly in need of replacement, so two measures were adopted. Firstly, to extend their useful life, the eight 1930 vintage petrol-engined STs were re-engined with diesel units from scrapped STLs. Secondly London Transport secured the loan of new Bristol "Lowbridge" buses, originally destined for various companies in the "National" Group. These measures kept the L.T. "Lowbridge" fleet going until a permanent solution could be implemented.
The permanent solution took the form of the Government diverting an order for 20 Weymann (Addlestone) bodied "Lowbridge" AECs from Midland General to London Transport. These were painted in green Country Area livery, given the Fleet Code RLH and numbered 1-20, and delivered in May and June 1950. The first 6 went to Amersham to replace the same number of ageing STs, 6 more went to Godstone to release half of the 12 "Godstone" STLs, and the remaining 8 went to Addlestone. However, rather than being scrapped, the older STLs were retained and used to augment the Addlestone group of routes by extending them south of Woking to Guildford and Ripley.
This programme still left all the wartime utility "Ds" at Merton and many of the STLs in service, so a further order was placed for 56 additional RLHs, which were delivered between October and December 1952. RLH numbers 21-52 were painted green, the remainder (RLH 53-76) were painted in red Central Area livery. It is the 50th anniversary of these 'second batch' buses, we are celebrating.
Even then, 7 of the STL's were retained and re-licensed for use in June 1953 to assist with the Coronation traffic.
<![if !vml]>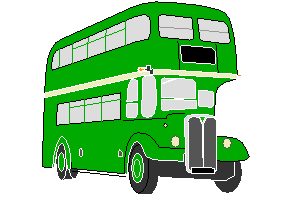 <![endif]>By the late 1950s RLH operations were at their peak. A total of 76 vehicles were in use on a dozen or so routes running from Garages at Amersham, Addlestone, Guildford, Reigate, Godstone, Merton, Harrow Weald, Hornchurch and latterly Dalston
In 1958 route 127 at Merton was withdrawn, releasing its fleet of RLH's to go to Dalston to start route 178, but by 1964 the decline had set in and routes were being converted to single-deck one-man operation fairly rapidly, including route 230 in June 1969.
<![if !vml]>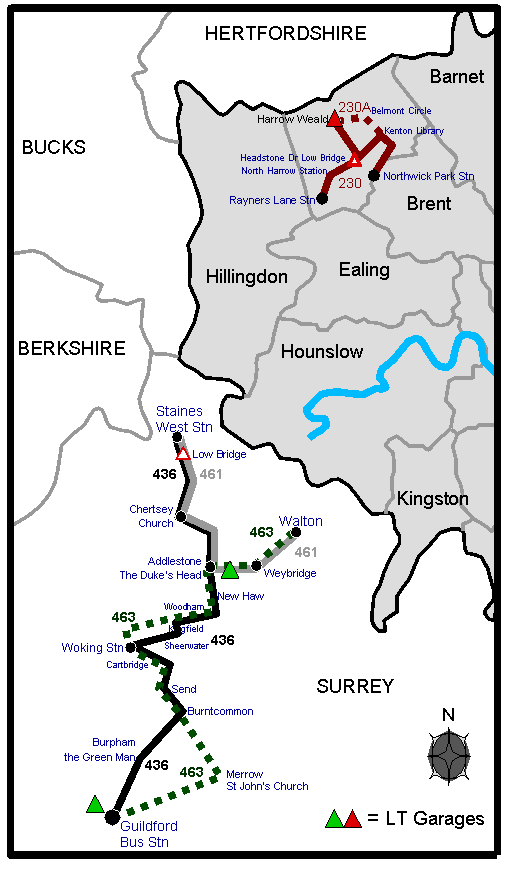 <![endif]>By December 1969 only four garages retained RLHs - Addlestone, Guildford, Hornchurch and Dalston.
The 17 vehicles based at Addlestone and Guildford were transferred on 1st January 1970 to the newly formed London Country Bus Services company (part of the National Bus Group) and they continued to operate for a few months in that guise, the last green RLHs running on 31st July 1970.
The red Hornchurch buses were withdrawn a couple of months later in September 1970 but the Dalston buses survived into 1971.
The last RLH ran on route 178 on 16th April 1971, thus ending 41 years of "Lowbridge" bus operation in London.
Today more RLHs survive abroad (exported in the 1970s) than can be found in the U.K., however very few others are preserved or operational like those you will travel on today.
Interestingly RLH number 50, will shortly have a complete rebuilding project completed by its owners, who we wish every success, and are also planning a 50th celebration soon- but on the opposite side of the globe in New Zealand!
FEEDER SERVICE TIMETABLES
Watford Junction/ Cobham - Staines/ Walton/ Guildford
RLH 32 24 23
Watford Junction Station d 07:30 10:15
Aldenham Overhaul Works # (Photo stop) a 10:50
Aldenham Overhaul Works # d 11:00
Staines Old West Station a 08:45
Cobham Bus Museum d 09:30
Walton Odeon # a 12:25
Guildford Bus Garage # a 10:05
Guildford Bus Station # a 10:15
Berkhamsted/ Amersham - Staines
RLH 48
Route Berkhamsted Top of King's Road d 07:05
353 Ashley Green Church 07:10
Chesham Nashleigh Arms 07:15
Chesham Broadway (for Station) 07:20
Amersham Station 07:30
Chalfont St Giles Pheasant # 07:42
Chalfont St Peter Church # 07:48
Gerrards Cross Station # 07:53
Gerrards Cross Packhorse # 07:55
Slough Crown (for Station) # 08:15
Windsor Bus Garage # 08:27
Old Windsor Wheatsheaf # 08:33
Staines Old West Station # a 08:45
# = no evening return service to these points
Staines – Harrow
RLH 23+24 32+48
Staines West Station # d 14:30 14:30
Harrow Weald Garage (Photo stop) a 15:45
Northwick Park Station a 15:55
Evening Return Journeys
Harrow - Watford Junction/ Cobham
RLH 23+32 24
Harrow Weald Near Bus Garage d 18:25 18:25
Watford Junction Station a 19:00
Cobham Bus Museum a 20:05
Harrow - Amersham/ Berkhamsted
RLH 48
Route Harrow Weald Near Bus Garage d 18:20
703 Pinner Green The Bell 18:31
Northwood Hills Station 18:34
Northwood Station 18:37
Rickmansworth Station 18:50
Chalfont & Latimer Station 19:06
Amersham Station 19:15
Route Chesham Broadway 19:25
353 Chesham Nashleigh Arms 19:30
Ashley Green Church 19:38
Berkhamsted Top of King's Road a 19:43
RLH BUSES HERE TODAY
The five buses attending this celebration today were all built in October 1952 - hence the 50th anniversary celebrations.
RLH 23
Oct 1952 Delivered to L.T. in green livery
Oct 1952 - Feb 1955 Addlestone
Feb 1955 - Sep 1955 Hornchurch (route 248 in green livery)
Sep 1955 - Nov 1955 1st overhaul and repainted red
Nov 1955 - Feb 1959 Harrow Weald
Feb 1959 - Apr 1959 2nd overhaul
Apr 1959 - Dec 1963 Hornchurch
Dec 1963 - Feb 1964 3rd overhaul
Feb 1964 - Jun 1966 Dalston
Jun 1966 - Sep 1967 Stored unlicensed
Sep 1967 - 1987 Preserved by David Pring
1987 - date Operated for charters by Timebus (David Pring), London
RLH 24
Oct 1952 Delivered to L.T. in green livery
Oct 1952 - Aug 1955 Addlestone
Aug 1955 1st overhaul
Aug 1955 - Sep 1958 Addlestone
Sep 1958 2nd overhaul
Sep 1958 - Oct 1963 Addlestone
Oct 1963 - Nov 1963 3rd overhaul
Nov 1963 - Dec 1969 Guildford
Jan 1970 Transferred to LCBS
Jan 1970 - Jul 1970 Guildford (ran on last day of green RLHs)
Aug 1970 - Feb 1971 Stored unlicensed
Mar 1971 - Mar 1973 Clarnico staff transport bus, London E15
May 1973 - Sep 1986 Exported to Switzerland and used by various organisations & shops
Sep 1986 - date Rebuilt, repainted in red and operated by London Bus, Basel, Switzerland (Marco Ghidorzi) – from where the bus was driven yesterday to be here
RLH 32
Oct 1952 Delivered to L.T. in green livery
Oct 1952 - Aug 1955 Guildford
Aug 1955 1st overhaul
Aug 1955 - Oct 1957 Guildford
Oct 1957 - Mar 1958 Addlestone
Mar 1958 - May 1958 Godstone
May 1958 - Oct 1958 Addlestone
Oct 1958 2nd overhaul
Oct 1958 - Nov 1963 Addlestone
Nov 1963 3rd overhaul
Nov 1963 - Dec 1969 Addlestone
Jan 1970 Transferred to LCBS
Jan 1970 - Jul 1970 Addlestone (ran on last day of green RLHs)
Aug 1970 - Feb 1971 Stored unlicensed
Oct 1971 - Jun 1973 Lesney staff transport bus, London. Blue livery
Jun 1973 - Oct 1974 Ensign Bus Co, Hornchurch
Oct 1974 - Nov 1976 LBPG, Cobham Bus Museum, Surrey (partial conversion to caravan at one stage by one private owner). Red livery
Nov 1976 - Jul 1997 Restored and preserved in green livery by Peter Gascoigne/ Modelstone Bus Club, Merseyside
Jul 1997 - Feb 1998 Bought by David Pring and Richard Proctor
Feb 1998 - date Preserved by David and Ewen Pring
RLH 44 (581J)
Oct 1952 Delivered to L.T. in green livery
Oct 1952 - Feb 1954 East Grinstead
Feb 1954 - May 1954 Addlestone
May 1954 - Jun 1954 Godstone
Jun 1954 - Jul 1954 East Grinstead
Jul 1954 - Jan 1956 Reigate
Jan 1956 - Mar 1956 1st overhaul
Mar 1956 - Jan 1960 Amersham
Jan 1960 2nd overhaul
Jan 1960 - Jul 1964 Amersham
Jul 1964 - Oct 1964 3rd overhaul
Oct 1964 - Dec 1969 Addlestone
Jan 1970 Transferred to LCBS
Jan 1970 - Jul 1970 Addlestone (operated last green RLH service on evening of 31st Jul 1970- a route 461A)
Jul 1970 - Oct 1970 Stored and then converted to Mobile Uniform Issue Store for LCBS - renumbered 581J
Oct 1970 - early 1980s Used by LCBS as Mobile Uniform Issue Store at ex LT Country Area Garages
Jan 1983 - Dec 1990 Preserved privately in Swindon
Dec 1990 - date Preserved and used as store by Timebus (David Pring), still in Uniform Issue Store configuration
RLH 48
Oct 1952 Delivered to L.T. in green livery
Oct 1952 - Feb 1954 Amersham
Feb 1954 - Oct 1955 Addlestone
Oct 1955 - Mar 1956 Hornchurch (route 248 in green livery)
Mar 1956 - May 1956 1st overhaul
May 1956 - Jun 1956 Godstone
Jun 1956 - Jul 1959 Guildford
Jul 1959 - Sep 1959 Godstone
Sep 1959 - Dec 1959 Dalston (route 178 in green livery)
Dec 1959 - Feb 1960 Amersham
Feb 1960 - Mar 1960 Dalston (route 178 in green livery)
Mar 1960 - May 1960 Godstone
May 1960 - Jun 1960 2nd overhaul
Jun 1960 - Dec 1964 Addlestone
Dec 1964 - Sep 1965 Stored unlicensed
Sep 1965 - Jul 1974 Whippet Coaches, Hilton, Hunts
Jul 1974 - Mar 1975 London Bus Preservation Group, Cobham
Mar 1975 - Dec 1983 Johnny Walker Whisky - used in Belgium
Dec 1983 - May 1984 London Bus Preservation Group, Cobham
May 1984 - date Restored and preserved by Richard Proctor
To exchange more information about RLHs, including details and photos of all the surviving buses, visit the RLH Bus Information Centre Web Site: